Gender & Media Production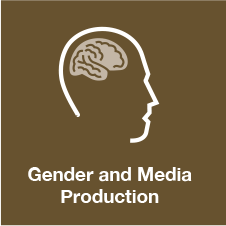 This module will develop your understanding of the complex relationship between media and gender. It examines key trends in audience consumption and gender representation and then examines those trends through a close textual analysis of multiple media formats. In this module you will also look at the real-world manifestation of gender bias within the media industry itself, taking into consideration workplace practices which inhibit gender equality, and the contemporary regulations which attempt to counter discrimination. Ultimately, this module draws connections between the texts which the media produces, and the industry conditions which generate that text.
On successfully completing this module, you should be able to:
Demonstrate a broad understanding of the complex relationship between gender and media, with in-depth knowledge in a specific area.
Evaluate and analyse consumption habits and representation issues.
Evaluate and analyse issues within industry practice and regulation.
Articulate solutions to historical and contemporary gender equality problems using a theory-informed, workplace practical plan.
The module uses a series of recorded lectures, guided reading, group tutorials and practical worksheets, concentrating on the following areas:
Block 1 – Laying the foundations
1. Media consumption habits: analysis in historical and philosophical context
2. Media representation: trends and issues in historical and contemporary context
Block 2 – Textual critical review
3. Advertising, marketing and gender
4. Film, television and gender
5. Journalism, broadcasting and gender
6. Digital cultures, trans-media platforms and gender
Block 3 – Practical critical review
7. Industry: Human rights, workplace behaviour and discrimination
8. Regulation: Wage gap, division of labour and equal opportunities
9. Connecting: Aligning textual gender bias and real-world media-workplace issues
Lecturer: Dr Laura Stephenson
Introduction to Gender and Media Production by Dr. Laura Stephenson