Improve Your Digital Skills
Last chance to gain FREE accredited training in digital and media production skills
The Advanced Media Production course led by Aberystwyth University has gone from strength to strength during the pandemic.

Businesses and organisations have an opportunity to gain and enhance the digital media skills of their workforce FREE OF CHARGE while supporting their employees as they work towards a postgraduate qualification (Postgraduate Certificate, Postgraduate Diploma or a Masters MSc).

June 2021 will be the last opportunity to register for this FREE accredited training.
Advanced Media Production has been designed with businesses and individuals in mind so that it's flexible, easily accessible through online, distance learning and will complement the employee's work and other commitments. This high-level, accredited training course aims to enable businesses and individuals to become more productive, sustainable and efficient especially in this ever-changing digital world.

Aberystwyth University's MSc Advanced Media Production course is delivered through the medium of Welsh, English and bilingually. The modules are the result of a unique multidisciplinary scheme between the departments of Computer Science and Theatre Film & Television Studies.
Listen to what Dafydd Rhys, Director of Aberystwyth Arts Centre has to say about The Advanced Media Production course.
Participants study via a supported distance learning programme and without the need to take time out of work. Each module last for around 14 weeks and are delivered in a rolling programme with annual start dates in February, June and October, giving participants the opportunity to cover all module choices.
Module topics include: Gender and Media Production; Applied Graphics; Introductory and Advanced Media Production Skills; Digital Culture and Programming for Digital Media.
This is what Meredudd Jones, Head of the IT Department and Digital Competence Co-ordinator at Ysgol Maes-y-Gwendraeth, Cefneithin has to say about the course.
The course's flexible approach allows participants to start studying whichever module most interests them and take as many, or as few, modules as they like, either as part of their Continuing Professional Development (CPD) or to build towards a range of post graduate qualifications (PG Cert, PG Dip or MSc Masters).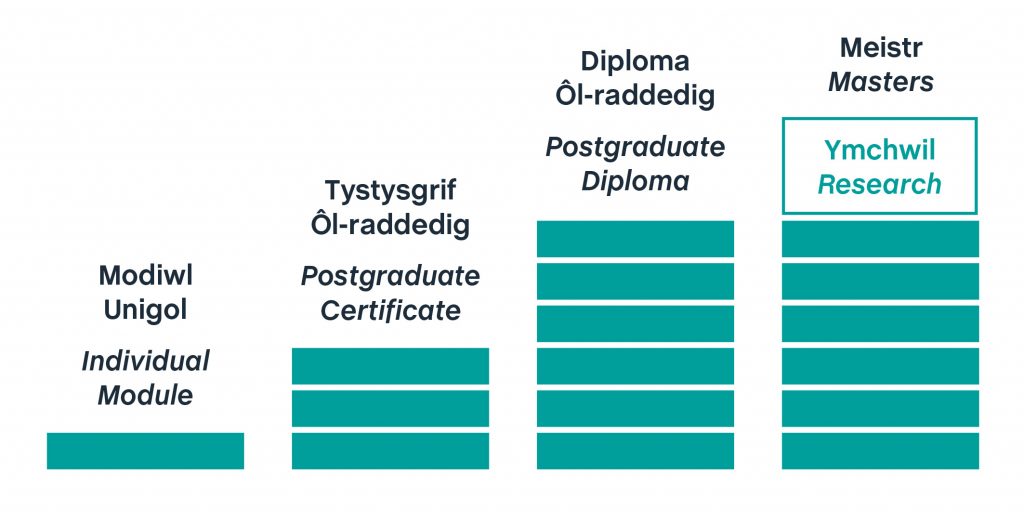 Siwan Dafydd, Head of Social Media at Telesgop Production Company sees Advanced Media Production as the perfect opportunity to develop her skills within her ever changing daily work.
It is widely recognised that there is significant shortfall in this type of training within
the creative industries in Wales. Thanks to financial support from the European Social Fund through the Welsh Government, training is currently offered FREE OF CHARGE to eligible businesses and employees who register before June 2021.
 
Don't miss out on the fantastic opportunity